Why Excel is an indispensable tool?
Want to read the post in Swedish? Click here
Who am I?
My name is Carl Stiller, an energetic and happy economist with a Master of Science in Business and Economics from Linnaeus University with 14 years of experience in the controller profession and with a preference for Excel. I am a member of the network FP&A Board and a member of AKAVIA's board of economists. In 2015, I took the step to start working as a consultant with a focus on Business Controlling, Interim and Change Management. The first assignment, one year long, was at Spotify where I mainly worked with the development of analysis, writing complex Excel formulas to better understand the revenue streams. During this assignment, I understood that the success you have with Excel consists of the following formula:
Basic knowledge + Imagination =

Success
What do I mean by that? Well, you do not have to learn all the formulas or functions, but you will go a long way in learning Excel's basics and then, with the help of your imagination, move on in how to use different functions in an optimal way. What I learned at Spotify was how to test yourself and combine a very large number of formulas in one and the same equation, how to keep track of all parts and how to use formulas for things you did not know about.
The posts
My posts will be divided approximately as a working month and as a year wheel, with tips on smart ways to work during financial statements, reporting, forecast and with budget. The posts will also cover the benefits of Microsoft's new super features such as XLOOKUP. A post will also focus only on what you can use SUMPRODUCT for, one of Excel's most underestimated formulas that I work with daily.
My focus will be to show real examples from working life and how to work with this fantastic tool!
Why is Excel indispensable?
Many companies say that you need to get away from Excel-hell, i.e. that you have your entire forecast or results reports in a large number of Excel files with links and on common folders. A small error handling can cause great damage just before a management team presentation that the CFO is to hold. I know because in almost all my workplaces this has happened sooner or later. Excel-hell is also a good selling point for suppliers of BI systems, where it is pointed out that the BI system that they have will solve all the world's problems.
In fact, I strongly believe that Excel cannot be replaced for the foreseeable future and that it will be needed. Excel hell does not exist, only the knowledge and way of working smart with Excel is lacking. The knowledge today in Excel varies greatly between different groups within a company and since companies today are so strongly dependent on Excel as a work tool, sooner or later everyone should take a couple of basic courses. The absolute expertise in Excel usually lies with the economists, statisticians, logistics or IT technicians, but then it is more about SQL and database management.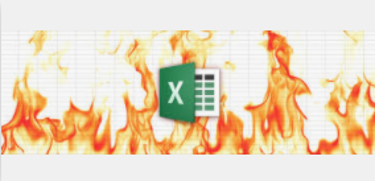 Before I started writing, I did a survey on a LinkedIn forum for economists. Within an hour, I had over 100 votes in the survey for FP&A Club with 12,000 members, which shows that the interest in the issue is great.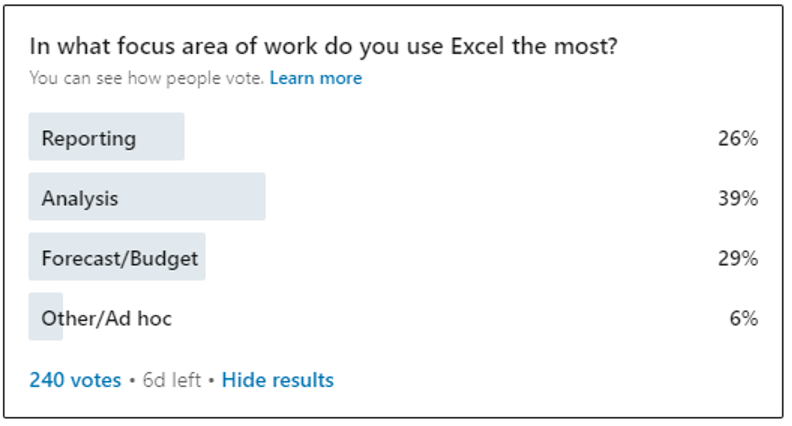 The interesting thing about the survey is that reporting is done to such an extent with the help of Excel in the economics profession. 26% of all those who voted use some Excel solution mainly for reporting, which is remarkable in a world with a plethora of BI tools. It is clear that Excel is mainly used for analysis, which is gratifying.
With today's pace we have in the workplace, a tool is needed that can handle information that is given orally in combination with extracts and info from ERP, BI, HR or CRM systems. Not all systems are always integrated with each other and this is where Excel comes in and covers the gap. It is also an excellent system to perform analyses in and not all companies have the opportunity to either purchase or maintain advanced BI systems. In all workplaces I have been to, there have been BI systems, but the analyses have always been done alongside Excel. You can compare Excel with a plate of food and cutlery. The food is the information to be processed, the plate is the systems in which the information is found. The cutlery, which in my comparison is Excel, is the tool you need to be able to knead around and turn the information. Excel is here to stay as it is constantly evolving and new features are being added!
Above is a photo of the new generation of IT geniuses, my daughter Rebecca who trains on mathematics on time.
Next post
I Hope you like the first post and stay with me in the coming weeks. In the next post, we will soft start with overall info about menu tabs, the quick access toolbar and my favourites to put down there.
Feel free to connect with me on LinkedIn and visit Learnesy´s website for more information. And of course, feel free to leave your comment!
Carl Stiller in collaboration with Learnesy
Use the voucher code cmkstiller for -15% on all Learnesys' courses!
Go to our shop!