Learnesy welcomes SKF to our online educations!
Here is a short instruction of how you register for your course.
Step 1 – Click on the link to the course you want to take:
Step 2 – When at the course page, click on the blue link.
(Click the picture to make it larger.)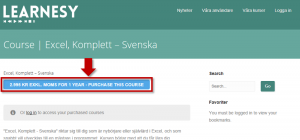 Step 3 – Insert the SKF coupon code skf2016skf which grants you -20% discount on all our courses. Apply coupon and then click Proceed to checkout. 
Step 4 – On the checkout page, fill out the required fields, agree to the terms and conditions, and then click purchase.
Step 5 – Before you can begin your course we need to confirm your order. When done, you will receive a confirmation mail and you can then begin your course.
Good luck!